SRA Price Transparency Rules Template & Checklist Toolkit 
For law firm websites
SRA Price Transparency Rules Templates & Self Audit pack
All SRA regulated solicitor law firms must publish certain information on their website. This toolkit has been designed to save law firms and solicitors hours of time in preparing their own pricing information and checking that they have met the key requirements.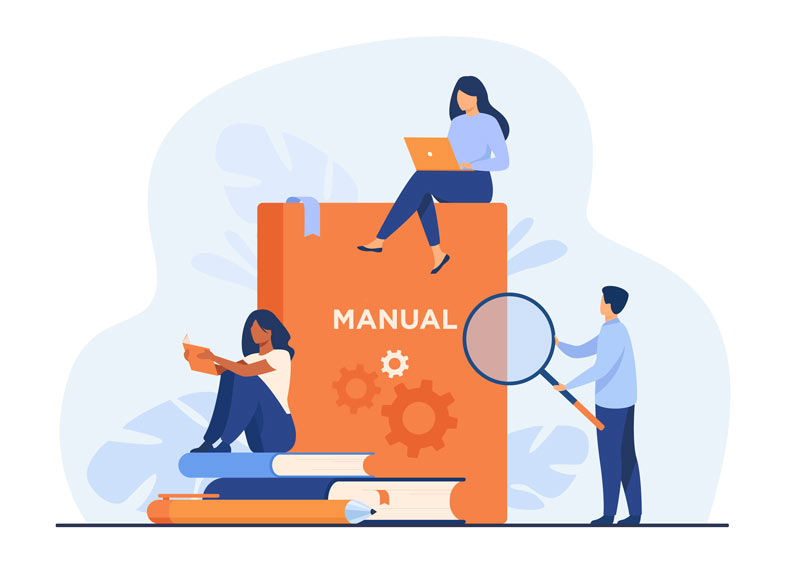 Our Solicitors Regulation Authority (SRA) Price Transparency Toolkit for law firms includes:
templates for the mandatory information all law firms and solicitor need to publish about their SRA regulation and about complaints. These documents come in Word so you can easily tailor them to your needs;
template wording for publishing your pricing for conveyancing / property, probate, motoring offences, immigration, employment tribunal work and debt recovery. Similarly these documents come in Word format so you can really make them your own while still saving on time;
a self-audit tool checklist which you can work through to get comfortable that you have covered the key requirements. This is a PDF with editable space for comments and red / amber / green checklists so you can check that you have the key requirements covered;
a short piece of guidance on where to put your pricing information and the SRA digital badge (please note however that this is a package of tools and templates not a book or guidance brochure).
We do offer independent specialist audits of websites but if you are on a budget and wish to fly solo this package should save you hours of time. Please note that the SRA do offer some templates free of charge on their website but our experience has been that they only cover part of the requirements and there's no checklist. That is why we have prepared this bundle.
Sample from our SRA Price Transparency Rules Self Audit Checklist: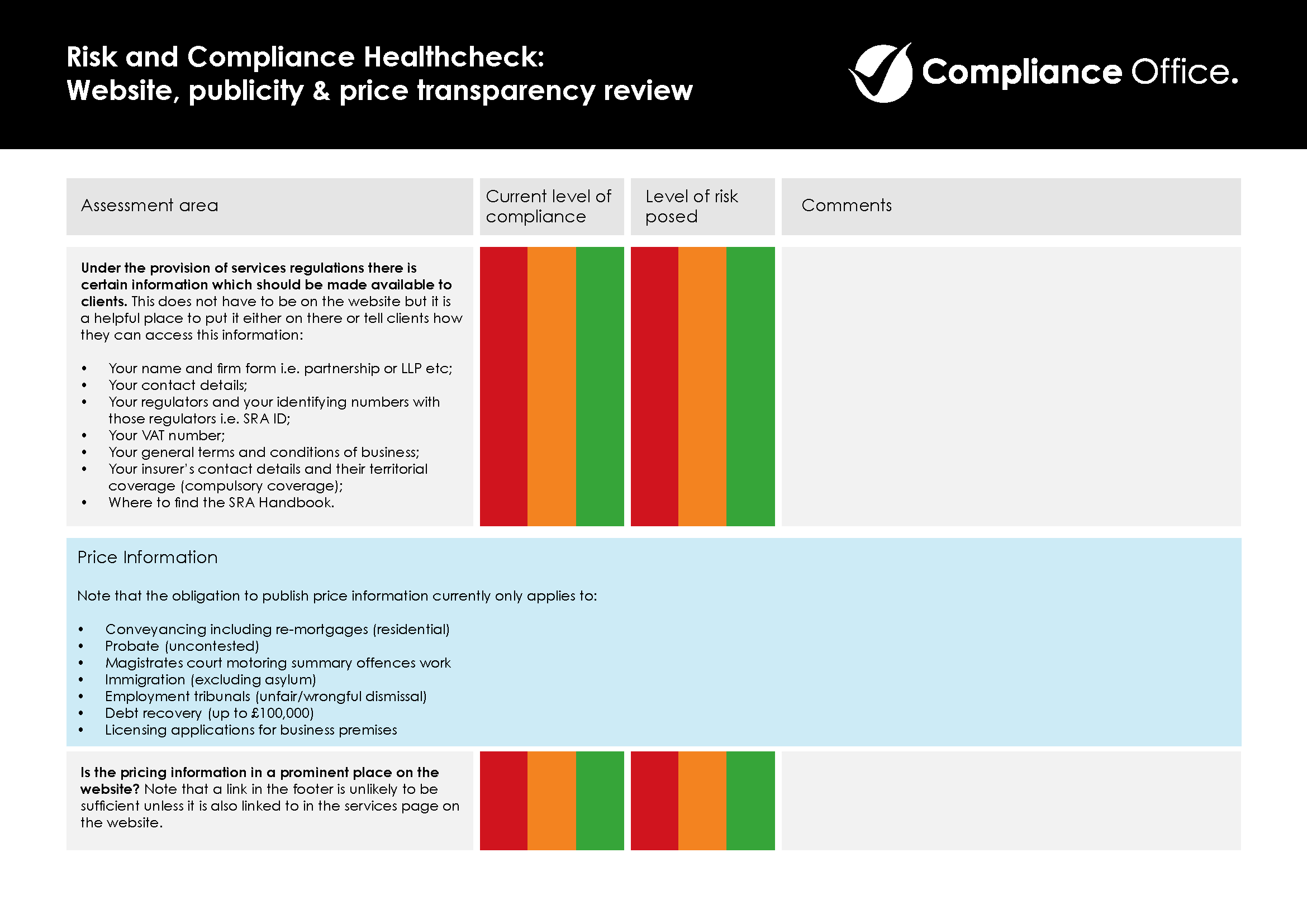 SRA Price Transparency Rules Template & Audit Checklist FAQs:
Do all law firms need to publish their prices on their website under SRA rules?
No. Note that the obligation to publish price information as listed below currently only applies to:
• Conveyancing including re-mortgages (residential)
• Probate (uncontested)
• Magistrates court motoring summary offences work
• Immigration (excluding asylum)
• Employment tribunals (unfair/wrongful dismissal)
• Debt recovery (up to £100,000)
• Licensing applications for business premises
However all law firms do need to publish the SRA digital badge, information about how they are regulated by the SRA and certain complaints information. Don't fall into the trap of thinking that you do not need to do anything simple because you do not conduct work in one of the areas of law listed above. 
Do you provide templates for pricing for all areas of law?
 The toolkits provide examples of how to publishing pricing in virtually all of the areas of law covered:
Conveyancing (residential) annex 3
Probate (uncontested) annex 7
Motoring offences (summary offences) annex 8
Immigration (excluding asylum) annex 5
Employment tribunals (unfair/wrongful dismissal) annex 4
Debt recovery (up to £100,000) annex 6
Please note however that for licensing applications (business premises) no template is available.
Have the templates been approved by the Solicitors Regulation Authority (SRA)?
The SRA as a matter of policy do not approve template policies and procedures. However we are pleased to say that our templates have been used to remedy some SRA concerns in the past with success.
Doesn't the SRA produce templates?
Yes. We would always encourage people to take a look at SRA guidance and templates first. However, our experience has been that the SRA templates omit some key information and it is necessary to add certain missing elements yourself. That is why we prepared this bundle. We tend to find it a much quicker and comprehensive route to obtaining peace of mind that your website is in good shape. The checklist self audit document will also provide greater assurance.
In what format does this toolkit come in?
The templates all come in a Word file with an accompanying audit checklist coming in a PDF with red / amber / green ratings which you can tick as required. Once purchased from our shop you can immediately download the templates. Please contact us if you require alternative formats before purchasing this item.
Do I need to subscribe?
No. You can simply purchase the toolkit as a one-off item if you wish to do so. If you are interested in continuing to receive the most up to date drafts you can subscribe to our Compliance Office in the Cloud platform. Contact us for more information.
Will this toolkit make my firm SRA compliant?
 Unfortunately no template can guarantee compliance. You will need to effectively tailor it to your law firm. While we tend to find that our templates require very little tailoring in most firms you should be satisfied that they work for you before adopting them.  There have also been some unexpected interpretations adopted by the SRA which can be difficult to anticipate. However as detailed above we have used the templates to resolve SRA concerns in the past and the self audit document will give peace of mind that the key requirements have been covered provided you've been able to follow the templates. If you are not sure and need some help do get in touch with us and we can arrange some hands on support for an additional fee (subject to availability). We would offset the price paid for your toolkit against our own audit and support fee. Just contact us for more details.
Do you provide guidance on how to implement the SRA Price Transparency Toolkit?
As standard we price our toolkits competitively without the automatic inclusion of any hands on help or guidance on your particular circumstances. However, we do work with a number of consultants who can provide audit and support for a fixed fee subject to availability. Contact us if you would like more information on this.